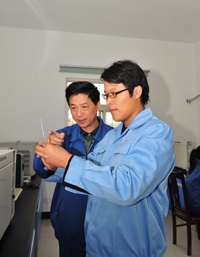 all the new changes in the world with Japan, how to predict the trend of international development, innovation and product meet market demand? The companies believe that the excellent research team, is the self-confidence to cope with the challenges of strength. From Ju Sheng Chemical entrepreneurial start, will research strength and talent cultivation priority to the development strategy. Current technology research and development team has three, Dr., Master 2, 3 senior engineers, university degree or above 12 people.
In addition, giant Sheng Chemical with a number of chemical research institutes and universities such as Fudan University, China University of Science and Technology, Tianjin University, 11 co-operate more in Lianyungang, Jiangsu Province, established R & D Production base, product R & D and trial, to ensure that the scientific research level of the chemical giant Sheng is always in the forefront of the industry to form a unique competitive advantage
giant Sheng Chemical elite training strategy:
As a platform for research and development projects, training of project leaders;
For the direction of professional research, training professional technical leader in the field;
Teamwork as the goal, to develop widely adopted Bo received, cooperation and innovation, groundbreaking talent.